OCTOBER 1
House of Sand and Fog (Vadim Perelman, 2003) = 3/5
The story is interesting and the performances are superb, but it's hampered by midday movie sensibilities. The heavy-handed, excessive nature of this film was really pissing me off towards the end. Director Perelman does not know the meaning of subtlety, although I might be able to forgive him as it was his debut film. A lot of people rank this among the most depressing films they've seen, but I didn't feel that emotional hollowness because none of it was believable.
OCTOBER 3
Life During Wartime (Todd Solondz, 2010) = 3/5
I expected a more substantial offering from such a talented writer. It lacks the stinging satire of Happiness (its loose predecessor), and you get the sense that this didn't spring from any burning passion in Solondz, but rather a compulsion to make something...anything. It's one of the most disappointing sequels I've ever seen.
OCTOBER 4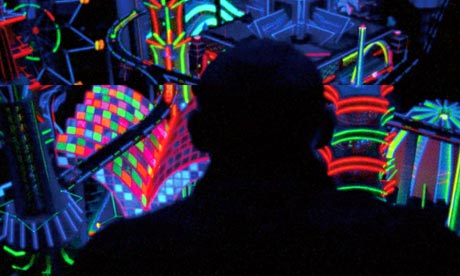 Enter the Void (
Gaspar Noé, 2009) = 0.5/5
'Style Over Substance: The Movie'. It's virtually unwatchable, and it's the most self-indulgent film I have ever seen. I still can't believe the man responsible for
Irreversible
and
I Stand Alone
presided over this nonsensical garbage. Sure, the film
looks
beautiful with its
kaleidoscopic colours, but like that party guest who dresses immaculately but makes bad conversation, it overstays its welcome.
OCTOBER 5
Raging Bull (Martin Scorsese, 1980) = 5/5
This is currently my favourite Martin Scorsese film, and it will take something very special to change that. This is a visceral film—one that is felt rather than viewed. The performance by Robert De Niro is phenomenal, and deserves to go down as one of the greatest of all time. He was so convincing that I was scared of him, despite being on the other side of the screen. The decision to shoot in black-and-white was not really a stylistic choice, but rather a consequence of not finding maroon, oxblood or black boxing gloves (the colours worn by boxers in the 1940s). I'm glad things worked out that way, because this film looks so wonderful.
OCTOBER 7
My Dinner with Andre (Louis Malle, 1981) = 4/5
WOW! It was SO difficult to pick a still from this movie to include in this post! So much variety in the shots! Of course, if you know what this movie is about, you'll know I'm being sarcastic. Two men (Wallace Shawn and Andre Gregory as themselves) have a philosophical discussion over dinner. That's essentially what the movie is. Oh, and there's also some footage of Shawn travelling to and leaving the restaurant. You'll know if this movie is for you just by reading that plot outline. I think it's a
curiously intimate creative experiment. It will test your patience at times, but those who persevere should find it rewarding.
OCTOBER 8
Code Unknown (Michael Haneke, 2000) = 2.5/5
This one left me really disappointed,

considering

Haneke is among my top five directors of all time. This is actually the only Haneke film I have not liked.
I felt like a spectator the whole time. I did not care for anyone's fate. Everything felt stilted and the multiple arcs did not gel together well enough for my liking.
OCTOBER 9
Eastern Promises (David Cronenberg, 2007) = 4/5
This is a stylish crime-thriller featuring a brilliant performance by Viggo Mortensen. I think it does well to resist being excessive. I'm not saying the violence isn't over-the-top at times, but there's a certain believability to it and it never detracts from the story being told. I've now seen two Cronenberg films (yep, I'm a latecomer) and I really want to see more!
OCTOBER 11
The Year My Voice Broke (John Duigan, 1987) = 4/5
A poignant coming-of-age drama about the pangs of adolescent love and the acceptance of our own insignificance in the vast schema of life. It will hit close to home for anyone who's gone through a phase of unrequited love. It was so great to see Noah Taylor and Ben Mendelsohn in early roles! Seriously, this is such an underrated Australian film. Watch it!
OCTOBER 13
The Strangers (Bryan Bertino, 2008) = 1/5
I can forgive a cheesy horror film, but not a boring one. Writer/director Bertino seems to think that suspense can be defined as the absence of action. I didn't root for anyone to stay alive. This is an unoriginal, pointless movie that thinks it's way cleverer than it actually is. No wonder I fell asleep when I tried to watch this some years ago.
OCTOBER 14
Killer Joe (William Friedkin, 2011) = 4/5
Funny, grotesque and intense. It's fun to watch because you can never predict the next scene. It's helped immensely by oddball characters.You will never look at a piece of fried chicken in the same way again.
OCTOBER 15
The Hunt (Thomas Vinterberg, 2012) = 4.5/5
An absorbing drama about the damage one lie can do. We feel the pain of its characters and wish we could find a way to intervene. The script is great, and the central performance by Mads Mikkelsen deserves immense praise. It's one of those films that will appease both mainstream and arthouse filmgoers.
OCTOBER 16
Broadway Danny Rose (Woody Allen, 1984) = 3.5/5
Features some clever gags but there are a few flat spots and the premise isn't milked for its full potential. I was
surprised at
how good Woody was as an actor here. This is definitely up there with his finest performances.
OCTOBER 17
Alps (Giorgos Lanthimos, 2011) = 2.5/5
A group of people start a business where they assume the identities of the recently deceased in order to help their clients through the grieving process.
It's sad to watch a fantastic premise go to waste through such uninspired direction. This could have been something special, especially considering the expertise Lanthimos showed with
Dogtooth
(2009). As it stands, I can hardly
remember
a single scene from this...only vague impressions.
OCTOBER 19
Waking Life (Richard Linklater, 2001) = 5/5
A work of stunning originality that is pornography for thinkers. It's films like this that change people's lives. The animation is dreamy and the dialogue is endlessly compelling. It's hard to describe this film to someone who hasn't seen it. If you're into philosophy and existentialism, I strongly recommend it. Actually, no, I recommend this film to EVERYONE...because you're all human, and this film is all about capturing Real Human Moments. I should mention that this film bumped Richard Linklater into my top 10 favourite directors of all time. He replaces Steve McQueen at number 10.
OCTOBER 20
Brazil (Terry Gilliam, 1985) = 1.5/5
Yes, I hated a movie that everyone loves, but you should be used to that by now.

It is over-complicated to the point where I just stopped caring. There are too many pointless scenes and it lacks an emotional centre. I couldn't wait for this gigantic mess to end.
OCTOBER 21
Hour of the Wolf (Ingmar Bergman, 1968) = 4/5
"The old ones called it 'the hour of the wolf'. It is the hour when the most people die, and the most are born. At this time, nightmares come to us. And when we awake, we are afraid."
This is a macabre and mysterious work of slow-burning terror. It plays on innate human fears and repressed memories. It makes me wish Bergman had made more horror films!
OCTOBER 24
Walkabout (Nicolas Roeg, 1971) = 3.5/5
It's a film about the unease of culture clash and the failure to communicate that doesn't pick sides
. The film's vastness swallows you whole. It's immaculately shot, but it's lost much of its revelatory power over time. Some of the editing techniques are very outdated, too.
OCTOBER 26
The Artist (
Michel Hazanavicius, 2011) = 4/5
A delightful film that feels remarkably authentic in its recreation of time and place. It's effortlessly charming, and I was relieved to see that it didn't come off as gimmicky. However, I must admit I have doubts about whether this would be
worthwhile
if it weren't made in the style of a silent film. Oh, and lastly, I would like to see
Bérénice Bejo in more things. She was cast so well in this!
OCTOBER 27
The Sweet Hereafter (Atom Egoyan, 1997) = 3.5/5
A great script and brilliant performances (by Ian Holm and Sarah Polley, especially) make this worthwhile. However, I must admit it was hard to sit through. It's just so gloomy and emotionally intense. Some people have compared this film to Ang Lee's The Ice Storm, which is one of my favourite films from the 90s. Unfortunately, The Sweet Hereafter didn't live up to Lee's film (although I know many people who'd disagree). I may revisit this one day because I think I went into it with too many expectations.
OCTOBER 31
Blazing Saddles (Mel Brooks, 1974) = 2.5/5
This is ultimately trash with a few decent gags interspersed throughout. It tries too hard to be edgy and it is SORELY dated. Maybe I was just expecting too much. After all, this film often ranks highly on lists of the funniest films of all time.
In Summary - The Must-See Films (4.5 or 5 Stars)
* Raging Bull
* The Hunt
* Waking Life